Day Camp
RESERVE YOUR SPOT TODAY FOR $5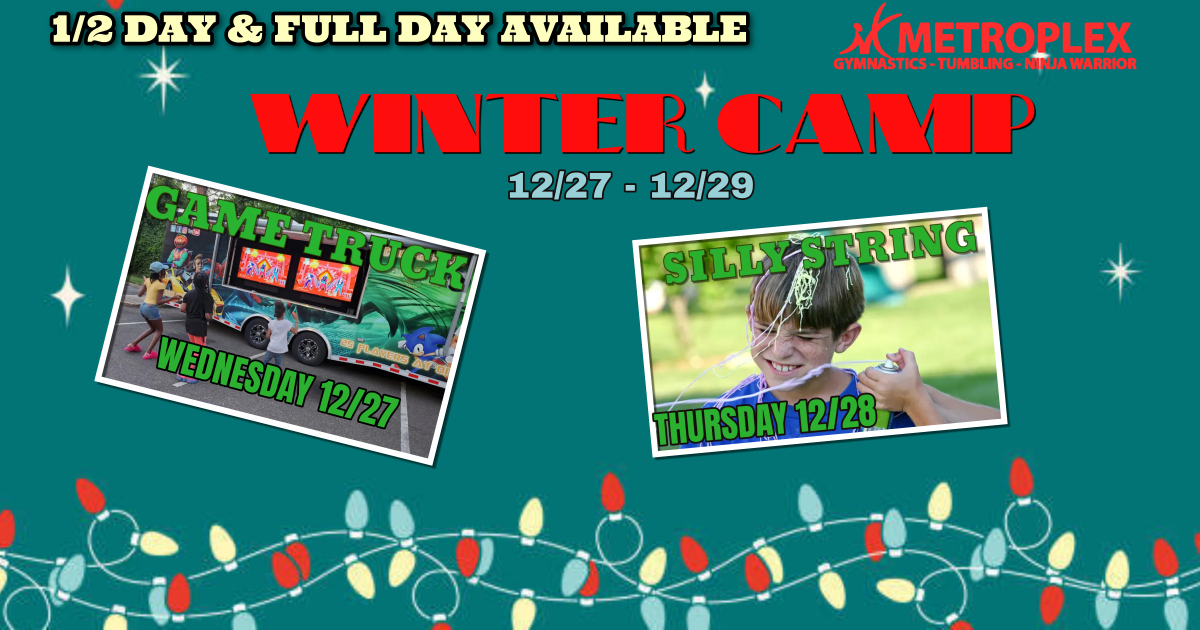 WHEN SCHOOL IS OUT, CAMP IS IN!
METROPLEX GYMNASTICS & SWIM OFFERS A UNIQUE CAMP FOR AGES 3-12. AT OUR CAMP YOUR CHILD WILL MEET NEW FRIENDS, STAY ON A STRUCTURED BUT FUN SCHEDULE AND LEARN TO SWIM ( ONLY OFFERED DURING SUMMER CAMP). METROPLEX GYMNASTICS OFFERS SPECIAL ATTRACTIONS 3 TIMES WEEK!
METROPLEX GYMNASTICS FOLLOWS ALLEN ISD SCHOOL CALENDAR
FREE 7:30 AM DROP OFF FOR REGISTERED CAMPERS.
HOW IT WORKS:
REGISTRATION: CAMPERS MAY CHOOSE TO DO A FULL DAY OR HALF DAY MIXED WITH A FULL WEEK OR SELECTIVE DAYS.
DROP OFF: METROPLEX OFFERS A CURBSIDE DROP OFF FROM 7:30 AM - 9:00 AM FOR ALL PRE - REGISTERED CAMPERS. PULL UP TO THE CONE AND TELL THE COUNSELOR YOUR CHILDS NAME. YOUR COUNSELOR WILL THEN CHECK YOU OFF, PUT A WRISTBAND ON YOUR CHILD AND SEND THEM INSIDE. NOTE: IF YOUR CHILD IS SWIMMING, WE ASK THAT THEY COME IN A SWIMSUIT UNDER THEIR CLOTHES.
DURING THE DAY: CAMPERS WILL BE SPLIT BY AGE AND FOLLOW A STRUCTURED SCHEDULE THAT CONTAINS OF GYMNASTICS, 3 DIFFERENT GAME TIMES, CREATIVE CHOICE, RECESS, SWIMMING LESSONS, ZIPLINE, NINJA WARRIOR , OPEN PLAY & LUNCH. NOTE: ONCE THE CAMPER IS ASSIGNED A GROUP, WE CAN NOT MOVE CHILDREN TO A DIFFERENT GROUP. THIS IS TO KEEP OUR GROUPS IN RATIO. GROUPS WILL CHANGE ON A DAILY BASED ON NUMBERS.
PICK UP: TEXT METROPLEX GYMNASTICS AT 972-439-4680 YOUR CHILDS FIRST AND LAST NAME WHEN YOU ARE 10 MINUTES OUT (PM CAMP ONLY) AM CAMP - PLEASE PULL UP THE CONE BETWEEN 1:50 - 2:00 AND YOU WILL BE GREETED BY A COUNSELOR. WHEN YOU ARRIVE, STAY IN YOUR CAR. A COUNSELOR WILL WALK YOUR CHILD TO YOUR CAR AND CHECK THEM OUT. NOTE: YOU MUST HAVE THE MATCHING CODE TO PICK YOUR CHILD UP.
WHAT TO PACK: LABEL EVERYTHING!
LUNCH, SNACK, WATER BOTTLE, CHANGE OF CLOTHES, TOWEL, SWIMSUIT, SHOES AND A SMILE!