SCHOOLS OUT CAMP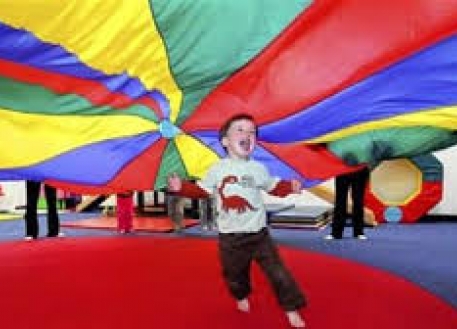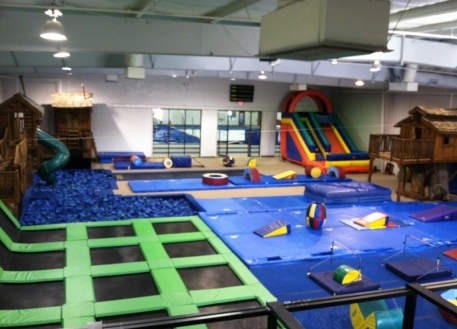 WHEN ALLEN SCHOOLS ARE OUT CAMP IS IN
1/2 DAY OR FULL DAY
SPRING BREAK CAMP
SCHOOLS OUT CAMP INCLUDES
GYMNASTICS, TUMBLING, OUTSIDE PLAY, CREATIVE CHOICE, GAMES..
2018 summer camp information below.
Summer Camp Every week day all summer long
FULL or 1/2 day camp all Summer long
A schedule to fit any family:
Morning 1/2 day Camp 9:00am - 2:00pm
Morning 1/2 day camp with swim lesson 9:00 am - 2:00 pm
Full Day camp 9:00am - 6:00pm ( includes swim )
1 day a week, 2 days, 3 days, 4 days or full week
10 weeks of schools out camp. Come to all 10 weeks or just a few days, the choice is yours
Group A is the yougest kids with Group F being the oldest.
Early Drop off as early as 7:30am No extra charge!!!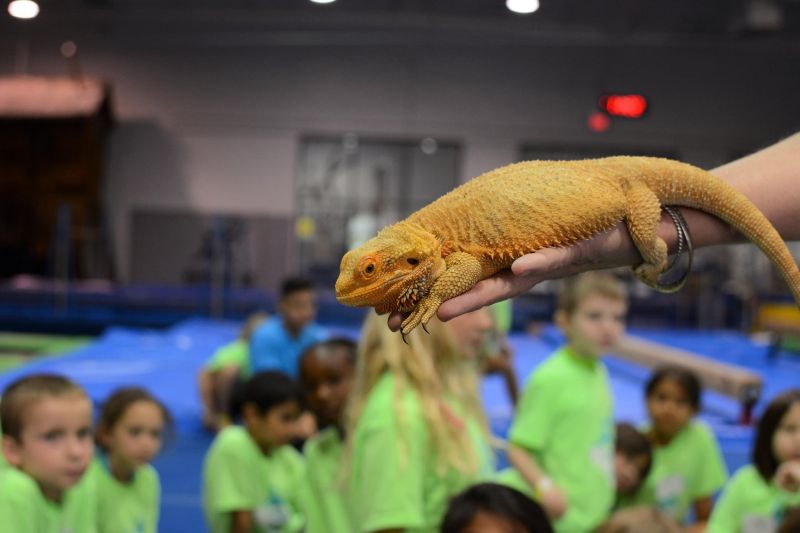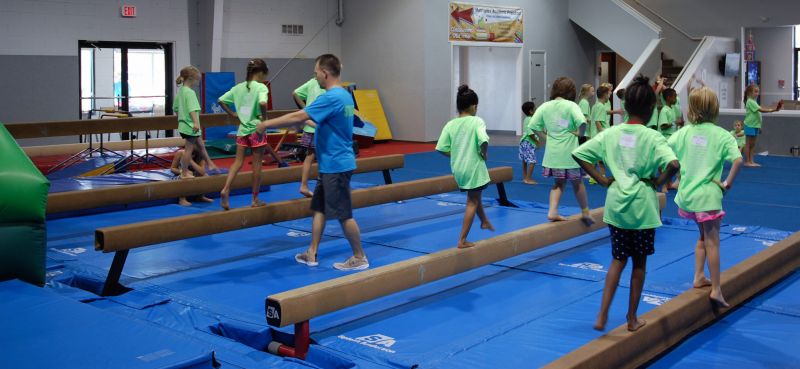 At Metroplex Summer Fun Kids' Gymnastics Camps, spend the day participating in physical, fun-filled, and educational activities. Children ages 3 to 12 years old are grouped according to age. Choose from 1, 2, 3, 4 days-a-week, or a full 5-day week, as many or as few weeks as you like.


Weekly Camps Include
Gymnastics lessons which include: trampolines, tumble trampoline, bars, beams, tumbling and vault
Games, trapeze, zip line, rope swing, Tree houses, inflatables, "pit" activities...
Stories and songs, creative choice centers, and special daily activities
Swim lessons included in full-day camp; Optional swim lessons with half-day camp
Drop-off as early as 7:30am at no additional charge!
Campers are split into 6 groups based on age,
Groups A - F with the youngest kids in A and the oldest in group F.

Special Attractions Include:
Petting Zoo
Hula Dancers
Critterman with critters to learn about
Pony rides
Magician
And more!
Each camp week must be paid in full the week prior to that Camp week. If tuition is not paid in full prior to camp, the student will be dropped from camp.

Schools Out Pricing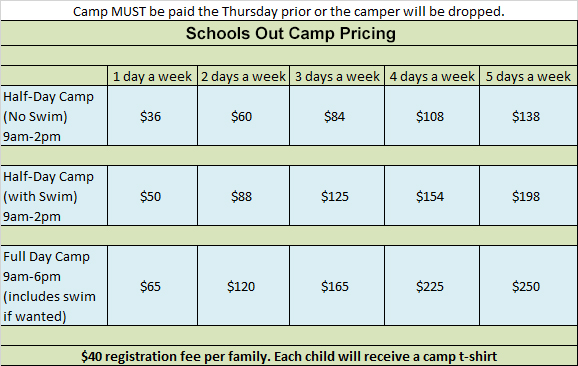 $5 nonrefundable deposit required for each camp in order to hold your spot
$40 registration fee per family ( 1 time per summer )
Each child will receive 1 camp T-shirt! Extra shirts can be purchased for $12 plus tax.
Upcoming Events