Birthday Parties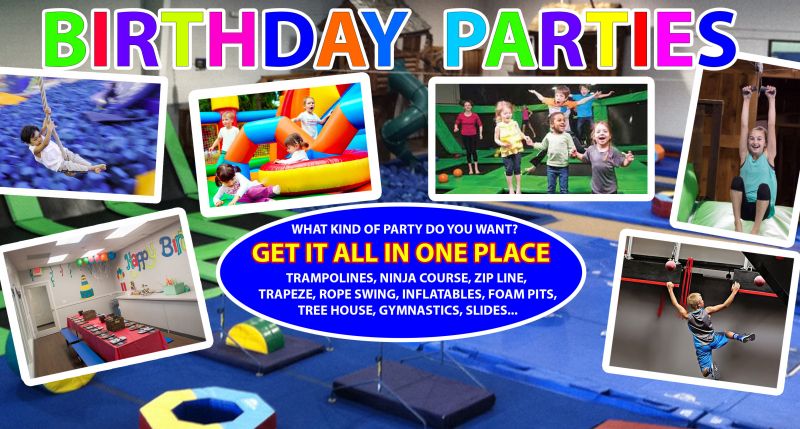 WHAT KIND OF PARTY DOES YOUR CHILD WANT?
TRAMPOILINE PARK - NINJA WARRIOR - GYMNASTICS - INFLATABLES - ZIP LINE
DON'T WORRY, WE ALSO HAVE TV'S ALWAYS ON THE GAME

HAVE IT ALL IN ONE PLACE AT A LOW PRICE
$300
An Unforgettable Experience
Metroplex offers a fantastic & unforgettable way for your child to celebrate their special day with a party that has it all. Sit back and relax while our trained instructors and professional staff cater to your child and their friends. We guarantee that our party experiences are second to none!
Birthday parties are designed for the specific age of the children attending.
You provide the cake, refreshments, and paper products.
We provide the FUN for your child & their guest.
You'll have the gym 100% all to yourself unlike party's at KidMania, Pump it Up & Jump Street where your party is in an open play area with the general public. This is a Special Day & we believe the birthday child should spend the party with their guest ONLY.
100% of our attention is devoted to making sure that your child's birthday experience is truly extraordinary.

Due to the on again / off again helium shortages nation wide, Metroplex can no longer offer balloons at party's. Feel free to bring your own baloons. keep in mind we can not blow them up, we don't have helium.
30 kid max at each party

Party Times
Saturday Party Times

Sunday Party Times

1:00 - 2:30

B Room

11:30 - 1:00

A Room

2:00 - 3:30

A Room

12:30 - 2:00

C Room

3:00 - 4:30

C Room

1:30 - 3:00

B Room

4:00 - 5:30

B Room

2:30 - 4:00

A Room

5:00 - 6:30

A Room

3:30 - 5:00

C Room

4:30 - 6:00

B Room

5:30 - 7:00

A Room

All Party's are gym fun first, cake & ice cream second:
Party's start with 30 minutes of fun in the back gym with our new inflatable obstical course, Trampolines, foam pits, bounce house & more. The next 30 minutes are spent having even more fun in the front gym with the tree house, zip-line, trampolines, slides & NINJA Area... after all the fun take the party to your private party room for 30 minutes of cake, ice cream, & presents!
Pricing
$300 per Party ( Plus Tax )
Full $300 plus tax must be paid to book a party.
Book your party online today.
1. Create an online account with Metroplex Gymnastics CLICK HERE
2. After you have created an account click on find a birthday party on the left side of the page.
3. Select the party date and time you want.
4. Make your payment online and you're done, FUN AWAITS !! Your Party is booked!!
Call if you have any questions 972-727-9095
After a party is booked there are no refunds and the party can not be rescheduled
WE HAVE MADE SOME CHANGES TO IMPROVE PARTY'S
BIGGER, MORE SPACIOUS PARTY ROOMS